Location & Parking
The office is located at 680 North Lake Shore Drive, Suite 118, Chicago, Illinois 60611; also known as Lake Shore Place. See map below for the location of the office and available parking. 680 North Lake Shore Drive is one block from Northwestern Memorial Hospital, and a few blocks from Michigan Avenue.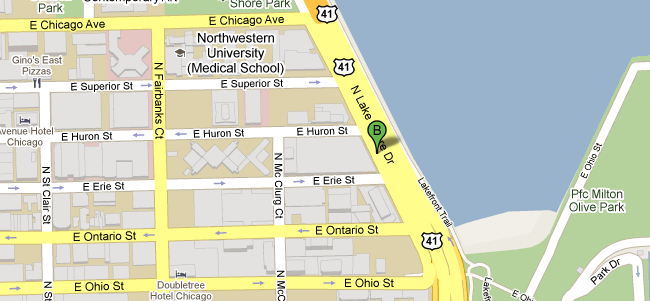 Click for Google Maps driving directions.
In addition to available street parking,
discounted indoor parking
is available with validation in our office at the following convenient locations:
Our building self-parking (entrance on Huron Street): 3 hours for $15.00 with our validation.
Public Transportation:
There is a taxi stand at the west end of the building. In addition, there are many bus stops within blocks of 680 North Lake Shore Drive: #3 King Drive, #29 State Street, #33 Magnificent Mile express (weekdays only), #56 Milwaukee Avenue, #65 Grand Avenue, #66 Chicago Avenue, #125 Water Tower Express (weekdays only), #145 Wilson/Michigan Express, #146 Marine/Michigan Express, #147 Outer Drive Express (Monday through Saturday only), #151 Sheridan, #157 Streeterville (weekdays only).